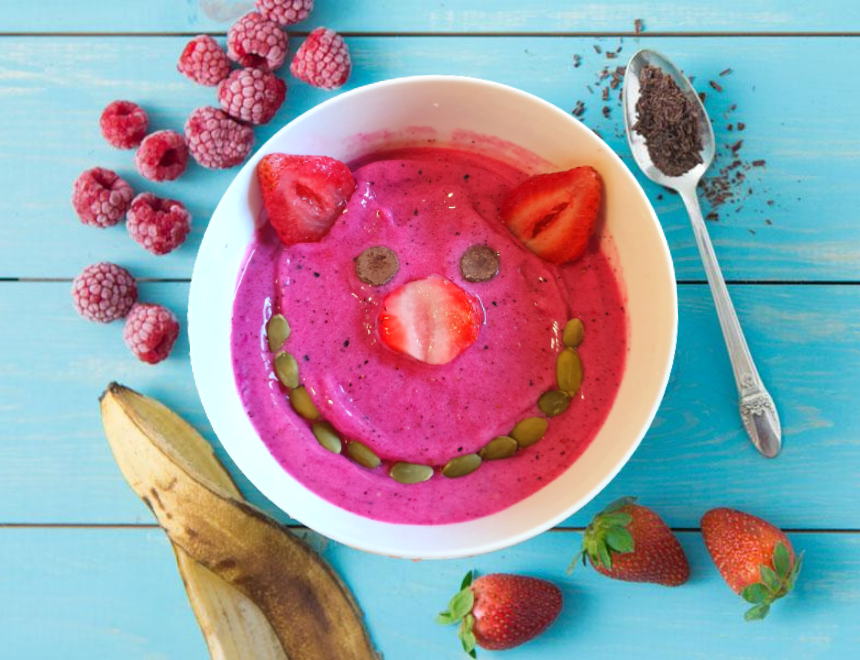 Pitaya Bowl for Kids
Are you looking for ways to change your regular school morning routine and win your kids over at breakfast time? A kid-friendly smoothie bowl is the perfect way to incorporate a fun, superfood-packed breakfast idea that will get your children excited to start their morning!
If you're preparing for the start of the new school year and are in need of some recipes your kids will like, these smoothie bowls are for you. You can get really creative and put your own twists on these ideas to create different variations depending on your child's preferences.
Smoothie Bowl Base
We recommend that for the base you blend one pack of Explore Superfoods Pitaya Puree with your favorite frozen fruits. Our Pitaya pulp will serve as a clean, nutritious base for any blender creation and its taste will mix  perfectly with any combination of fruits and toppings. Explore Superfoods challenges you to reimagine the status quo by incorporating transformative superfoods into your children's diets. Pitaya's dynamic flavor and nutritional benefits can transform your family meals!
Don't ever let bananas go to waste in your house again! You can still use those overly ripe bananas by peeling them and freezing them in a freezer bag until it's time to use them for a delicious smoothie bowl. You want your bananas to be frozen because they will help thicken the consistency of the base and keep it from melting too quickly.
In addition, you can use other frozen berries to add some sweetness and mask the taste of any veggies you might want to add. You can mix in frozen strawberries which are great for kids because of all the fiber and potassium they have. For example, in our Vitamin C Bowl, we mixed in frozen pineapple along with frozen strawberries and apple juice. Any fruit that your child loves will work just fine to give the bowl more flavor and thicken the base.
Is Pitaya good for my kids? 
Pitaya, also known as dragon fruit, is more than just an exotic looking fruit to brighten up your countertops or fruit plates. This fruit is indigenous to Southern Mexico and Central America, but is cultivated in a few regions worldwide. Although pitaya lasts a few days, it may need to be stored in the fridge fairly quickly which is why we recommend frozen pitaya puree packets. 
Pitaya is a highly nutrient dense superfood that contains a high level of fiber and magnesium, a mineral that will promote bone health and food metabolism for your children. Pitaya is also high in vitamins such as Vitamin C and Vitamin A. Vitamin C is the tool the  body uses to heal and fight off infections; it strengthens the skin, muscles and tissues. Vitamin A is important for the health of skin and for normal growth. It also helps with vision and tissue repair. Pitaya can be an excellent source of iron which is important during growth periods and building muscles. 
Smoothie Bowl Toppings
The possibilities of your kid's imagination when topping your pitaya creation are endless. You can choose the toppings yourself or lay them out in a few different bowls and let your child's creativeness shine. Ideas for tasty toppings include fresh fruits such as strawberries, blueberries, blackberries, raspberries or pomegranate. To add some crunch to your bowl, consider toppings like nuts and seeds, coconut flakes and granola. 
If you're not ready to let go of the summer vibes yet, cut up mango or pineapple chunks and throw them on top for extra sweetness and a pop of color. Think about nuts and seeds like almonds, cashews, peanuts, hemps seeds or chia seeds for some added texture. Encourage your kids to add these "sprinkles" like they would for an ice cream sundae. Other fun adds include granola, coconut flakes, chocolate chips and nut butters. There is no right or wrong way to add your toppings, just lots of space for fun designs that your family will go bananas over!