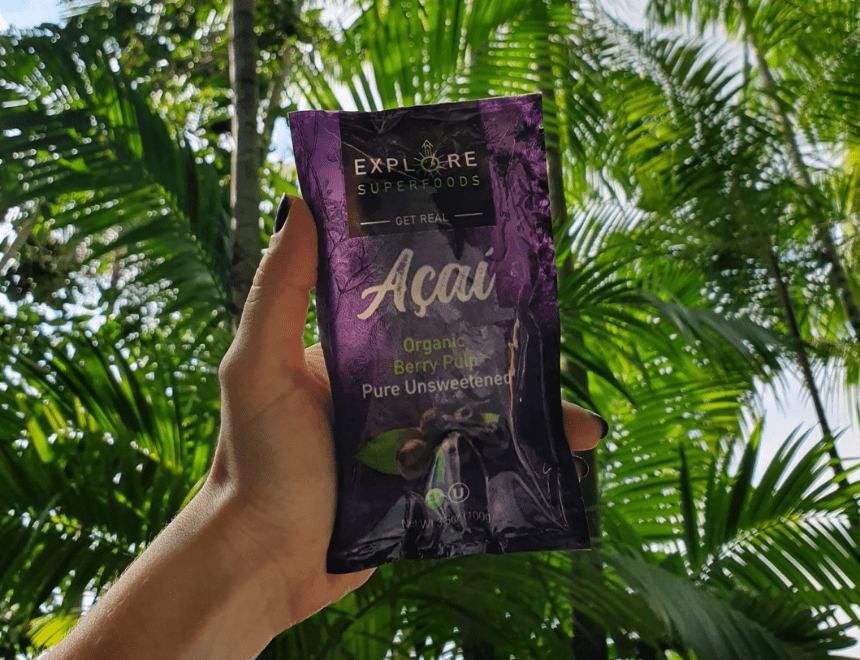 Skincare Benefits from The Brazilian Beauty Berry
Plucked directly from the palms of the best region of the Amazon Rainforest, the Açaí berry has been a staple in the native Amazonian diet for centuries. In Brazil, açaí is known as the "beauty berry" for its natural compounds that work wonders for the skin to give you that natural glow! Açaí has become more popular in organic skincare because of its many skin benefits, but it provides great nutritional value that contributes to healthy skin too!
Açaí Vitamins and Minerals
Here at Explore Superfoods, we understand that our customers want to make healthy changes in their lifestyles and achieve desired goals. It is our priority to source the finest superfoods and bring them to your doorsteps!
Açaí has a whole host of vitamins and minerals to support a healthier lifestyle and skincare routine:
Vitamin A

Vitamin C

B Vitamins

Calcium

Zinc

Magnesium

Copper
Let's take a look at the different vitamins and minerals that can be found in açaí.
Vitamins in Açaí
Vitamin A: Vitamin A is one of the nutrients that your skin needs as it has many protective and nourishing properties. Açaí is rich in beta carotene which our body converts into the retinol form of Vitamin A. Many dermatologists recommend retinol to combat signs of aging and stimulate collagen production. This vitamin can lead to healthy skin cell production, in addition to protecting your skin against UV damage and infection.
Vitamin C: You might already be familiar with some of the immune-boosting properties of Vitamin C but, did you know that Vitamin C is as crucial to your skincare routine as using sunscreen or washing your face? Vitamin C activates fibroblasts that produce collagen which helps your skin look firm, strong and beautiful.
B Vitamins: Açaí is a great source of B vitamins which are essential for healthy brain functions such as the production of dopamine and serotonin. These brain chemicals regulate stress reactions, various mental functions and sleep. B3 (Niacin) helps to moisturize the skin, B2 (Riboflavin) aids cell turnover and stops excess oil production, and B1 (Thiamine) prevents stress breakouts.
Minerals in Açaí
Calcium: Calcium is a micronutrient that is stored in the epidermis, the outermost layer of the skin. It regulates sebum production, protects from UV rays and plays an important role in skin renewal.
Zinc: Zinc works to keep your skin healthy and glowing by working as an antioxidant and helping your skin heal. Zinc also works to control your skin's inflammatory responses to clogged pores from bacteria and dead skin cells.
Magnesium: If you're lacking this mineral in your diet, your skin may feel dryer and uneven. Magnesium keeps your skin moisturized and bouncy in addition to regulating cellular regeneration and repair.
Copper: Copper peptides increase collagen production to help create firmer and tighter skin. If you're struggling with an uneven skin tone due to acne scars or sunspots, this mineral may reduce their appearance.
Açaí is the fruit that heals the mind, body and soul…and the skin too! Through its powerful vitamins and minerals, açaí will protect your skin from environmental pollutants and other harmful factors. 
We believe that this beauty berry will highlight your natural beauty by giving you that healthy glow you deserve! Explore Superfoods is committed to providing you the highest quality açaí directly from the best regions of the Amazon rainforest.
Check out some of our Açaí Organic Berry Pulp and start incorporating the Brazilian beauty berry into your diet!